Divider Partitions – Office Furniture for Orange County, Santa Barbara and Riverside CA
At BizClicks Office, we continually strive to ensure that your experience with us a pleasant and professional one. Businesses from Calabasas, Ventura and Santa Barbara to Inland Empire, Riverside and the San Fernando Valley have all taken advantage of the superior quality, service and value found at BizClicks Office. So, whether you are looking for used office furniture or new office systems, it is our pleasure to serve you! One of our many specialties here at BizClicks Office is our excellent selection of divider partitions. Divider partitions are an affordable and flexible way to maximize limited workspace, create privacy and minimize noise.
Unlike permanent walls, divider partitions can easily be moved and reconfigured as needed. If you have a team collaborating on an important project, divider partitions can be removed to allow for better communication. Once the project is done, put them back and give each of your employees some added privacy. Need some assistance with your cubicle layout? Not sure what kind of divider partition or how many you need? You've come to the right place! BizClicks Office can help with all of your layout design needs, so you can maximize your workplace efficiency and keep your costs low. Whether you need divider partitions to separate cubicles or something portable that can be moved and reconfigured to meet different needs, BizClicks Office has you covered!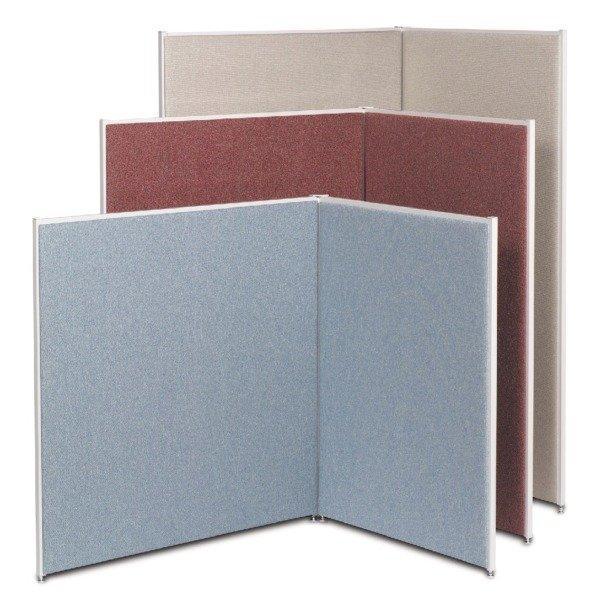 We offer a variety of styles, colors, sizes and designs, so you can select the perfect divider partition to meet the unique needs of your office environment. From high partitions that maximize privacy to low divider partitions that allows your staff to collaborate and discuss issues without leaving their desk, if you need it, BizClicks Office has it! With the continually developing business climate, BizClicks Office prides ourselves on offering innovative designs and being able to adapt to meet your changing needs. That is why we select divider partitions and all of our products for not only their aesthetic, quality and affordability, but also for their ability to facilitate a better working environment to enable staff to operate more efficiently.
Whether you need a single divider partition delivered to Ontario, CA or are outfitting your corporate headquarters in Orange County, you can rely on BizClicks Office for all of your divider partition and complete office furniture needs. Contact us today!